Virtual Learning with Tensar Road Shows
by Tensar International, on Oct 14, 2020 11:35:55 AM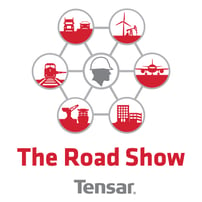 Education is a top priority at Tensar because we believe that is the key to building better infrastructure. We have developed several educational programs over the years with The Road Show quickly becoming our most popular event. However, COVID-19 have brought these in-person shows to halt, forcing us to get creative. Fortunately, creativity and ingenuity are two of our strengths.
Given these circumstances, Tensar decided to take our popular Road Show seminars online. As with our in-person events, attendees can choose courses covering a variety of civil design and construction topics and earn PDH credits. These online events are highly educational, interactive and loaded with polls, videos, and Q&A sessions.
Our virtual Road Shows have become regionalized so that certain content, like case studies, address issues and their solutions specific to those areas. Our first large-scale virtual Road Show was held last month for the Southeast. More than 300 people attended online, gaining knowledge on how to build more efficiently with geosynthetics.
There are still two more virtual Road Shows scheduled for the year. These events are all free to attend. To learn more or to register, simply click the link below that best corresponds to your region. Can't make the live event? All those who register can access recordings of the sessions for a limited time after it concludes.
Not able to commit to a virtual Road Sho
w right now? No worries, you can earn PDH credits at Tensar Professional Education which is our online learning portal. There you'll find webinars that range from 30-60 minutes and cover a wide range to topics.