Before we define what geogrid is, let's take a look at the larger category of geosynthetics. A geosynthetic is a synthetic product, usually made from or including polymeric materials, that are used to solve civil and geotechnical engineering problems in or on the ground. Geosynthetics add to or enhance the functions of conventional materials to make construction more efficient, cost-effective, and reliable. Designs using geosynthetics should be based on the function(s) of the selected materials to meet the engineering objective(s).
Geogrid is a category of geosynthetic material that can be used to provide the functions of: reinforcement, stabilization, and filtration.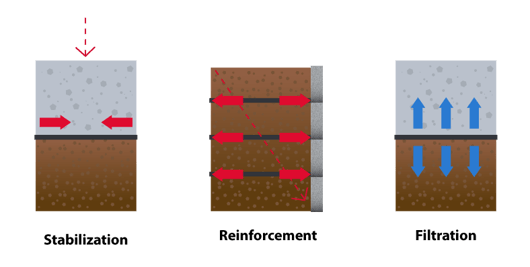 Biaxial and multi-axial geogrids provide the functions of stabilization and filtration.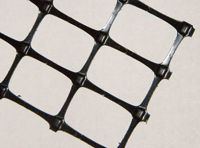 One of the most common applications for a geogrid is for the stabilization of poor soils during sitework (learn more about our Sitework Solutions here). Construction projects often encounter weak, wet soils that are not suitable to build on. Conventional approaches to this problem would to remove and replace (overexcavation) the bad material, place a thick layer of aggregate, or other granular material, as a bridge layer, or chemically treat the soil to improve it's strength. Geogrids provide a simpler, more cost-effective solution using the functions of filtration and stabilization.
Biaxial Geogrid
Invented by Tensar in the late 1970s. Biaxial (BX) geogrids have square or rectangular openings, called apertures. Different types of biaxial geogrids exist on the market, but for roadbed applications, testing has consistently shown that integral geogrids made by a process known as punched and drawn perform best.
Multi-Axial Geogrid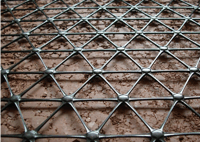 Tensar TriAx (TX) Geogrid has additional diagonal ribs that increase the in-plane stiffness of the product. The triangular pattern is formed into a hexagon to improve how the product absorbs the forces from traffic loading. Ribs in TriAx are designed to provide a high aspect ratio which provides better interlock with the surrounding aggregate.
Uniaxial geogrid provide the function of reinforcement.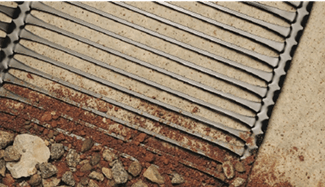 Tensar Uniaxial (UX) Geogrids are manufactured from select grades of high-density polyethylene (HDPE) resins that are highly oriented and are designed to resist elongation (creep) when subjected to heavy loads for long periods of time.
These geogrids are also highly resistant to installation damage as well as long-term chemical or biological degradation. In fact, Tensar UX Geogrids have shown no degradation in soils with pH levels measuring as high as 12 and can be used in both dry and wet environments. Given the inert properties of HDPE resins, they can be designed for use with a variety of backfill materials, including on-site soils and recycled concrete.
Asphalt interlayers provide the function of

reinforcement and/or waterproofing.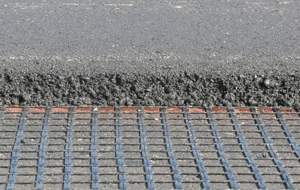 Control of Asphalt Cracking: The GlasGrid Asphalt Reinforcement System is composed of fiberglass strands coated with an elastomeric polymer and formed into a grid structure. Each strand has a remarkably high tensile strength and high modulus of elasticity; this is particularly important as asphalt concrete typically cracks at low strains. When the GlasGrid System is sandwiched between the leveling course and the surface course in an asphalt overlay, it becomes the hidden strength in the road, turning vertical crack stresses horizontally to effectively dissipate them.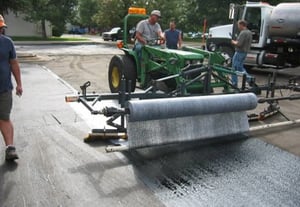 Pavement Rehabilitation with moisture barrier protection: The GlasPave Mat's capabilities are well suited to all pavement surfaces. Its geosynthetic, non-woven polyester matrix enables an asphalt binder to fully penetrate and fill voids within the matrix, limiting the infiltration of surface moisture into the granular layers of a pavement structure, ultimately preserving the strength of these layers. The matrix design also promotes a quick, strong bond with a variety of asphaltic tack coats. And like the GlasGrid Asphalt Reinforcement System, the GlasPave Mat performs well even in the harshest environments.
Related Blog Posts:
How Geogrid Works | How to Install TriAx Geogrid | Trenching with Geogrid | What are Interlayers?
Tensar TriAx Geogrid, as a Separation Barrier
Downloads:
Subgrade Improvement Pocket Card | Case Study: Lake Ave Orchard Park | Case Study: Fasion Outlets of Niagara Falls
Ready to Talk to Tensar? Contact us and let's get started!