Soft Soils | Unpaved Roads | Working Platforms | Foundations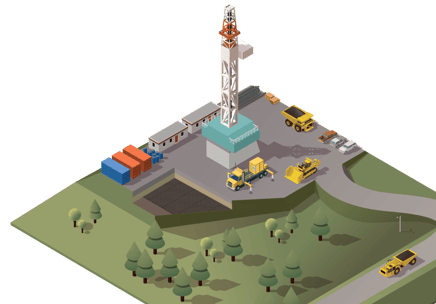 In almost any construction project, working on weak or soft soils presents considerable challenges for soil stabilization. Tensar's technology and expertise of ground stabilization not only improves site performance, but is proven to reduce costs and environmental impact. Our innovative TriAx geogrids are designed to provide effective confinement of the granular fill. This results in a stiff mechanically stabilized layer capable of controlling differential settlement, reducing road fill depths, and increasing bearing capacity.
To put it simply, for stabilizing aggregate, especially over weak subgrades,

stiffer is better

.

Almost every contractor has faced this problem: you're ready to go to work, but you can't get onto the site because of poor site conditions or bad weather. The site is wet and sloppy, so you can't start the job. Equipment and manpower downtime is costing you time and money while you wait for the site to dry. The result – additional costs and scheduling problems, especially if your equipment is needed elsewhere. You have options.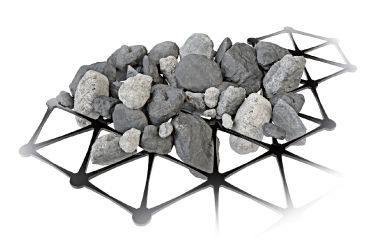 You can over-excavate and import fill, but that is expensive. You can try to lay down a layer of fabric and aggregate fill to help you get onto the site, but if the soil is too soft, installation may be impossible. What do you do?
There's a better answer: Tensar TriAx Geogrid.
Some sites are just too tough for fabrics to handle. Some areas where fabrics are used need so much maintenance after installation, or require such a large fill thickness, it hardly seems worth it to have used them in the first place. Plus, fabrics can be difficult to install. Who needs the hassle? Tensar TriAx Geogrids offer a better solution. When faced with the cost of losing equipment production time or wasting valuable man-hours, using TriAx Geogrids can be the best decision you make. Since they are easier to install, use less aggregate fill, and require no skilled labor or specialized equipment, TriAx Geogrids help you get in, get out, and get the job done on time.
Working Platforms
Poor soils, weak subgrades and harsh weather or environmental conditions can make the construction and maintenance of access roads, laydown yards, drilling pads and other working platforms more difficult, dangerous and costly. Exposed to the continual heavy loads of trucks, cranes, drilling rigs and other equipment, without mechanical soil stabilization these sites are subject to rapid deterioration beyond effective use.
Areas commonly benefiting from geogrid stabilization:
Well Pads | Laydown Yards | Staging Pads | Crane Pads
Unpaved Roadways
Weak subgrades pose the greatest challenge to the performance of an unpaved access or haul road. Left untreated, a weak subgrade subjected to continuous heavy traffic will quickly deform, causing the road surface to rut, pothole, "washboard" and ultimately deteriorate beyond use.
Foundations
Developers, engineers and contractors know: building reliable foundations over poor soils can be expensive, time-consuming, labor-intensive, difficult to stage, and environmentally challenging. Tensar offers two innovative foundation construction and improvement systems as alternatives to conventional techniques.
Improve Site Access | Reduce Cut and Fill | Reduce Aggregate Fill Thickness | Value Engineer for Profit
Reduce Maintenance | Simplify Installation
Related Blog Posts:
How Geogrid Works | How to Install TriAx Geogrid | Inclement/Cold Weather | Are You Really Saving with Chemical Stabilization?
How Geogrids Work to Keep Projects on Track
Downloads:
Soft Soil Infographic | Haul Road Application Bulletin | Case Study: Nagle Road | Case Study: Lake Ave Orchard Park
Ready to Talk to Tensar? Contact us and let's get started!