High-Performing Roadway & Sitework Solutions for the Oil & Gas Industry
Poor soils, weak subgrades and harsh weather or environmental conditions can make the construction and maintenance of access roads, laydown yards, drilling pads and other working platforms more difficult, dangerous and costly. Exposed to the continual heavy loads of trucks, cranes, drilling rigs and other equipment, without mechanical soil stabilization these sites are subject to rapid deterioration beyond effective use.
In particular, durable Tensar TriAx Geogrids installed with structural fill have been proven to:
Reduce aggregate requirements up to 60%, along with additional savings in labor and equipment construction costs

Reduce rutting from heavy loads to create longer lasting access and haul roads, working platforms and laydown areas with fewer maintenance cycles

Improve surface quality of roads and platforms to increase safety, operational speed and productivity

Create stable and more uniform roadways and working surfaces, minimizing the potential for dangerous potholes or washouts

Preserve post-drilling production site access for reaching workover rigs in key locations

Eliminate the challenges of chemical stabilization of weak soils, including safety of personnel and the environment

Allow cold climate construction and rig movement, with no need to sacrifice performance and productivity during freeze-thaw cycles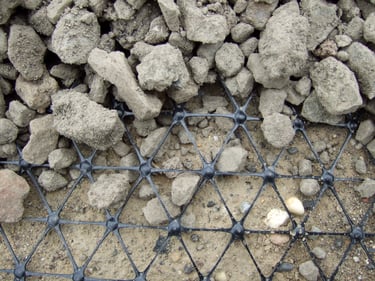 One drilling site superintendent after his experience after a TriAx Geogrid installation:
"Last year, our sites were mud bogs…
this year, they're like superhighways."
How Geogrids Work: Mechanical Interlock
More Solutions
Tensar also offers solutions for other applications that can be used in oil and gas site development projects including:
Retaining Wall Structures | Steepened Slopes & Slope Repair Structures | Tank Farm Foundations
Design Support and Project Assistance You Can Rely On
As the worldwide leader in geogrid technology and design support, Tensar's products and technologies are backed by the most thorough quality assurance practices in the industry. We provide comprehensive design and site assistance for every stage of a project. For example, we'll provide support to analyze local soil conditions at no charge. This service delivers a more accurate assessment of in-place soil parameters such as stiffness and strength of near-surface soils, leading to a more reliable and economical design.
Given a specific set of soil and proposed loading conditions, a full design section can be developed by Tensar. In addition, we can provide case studies, system specifications, technical notes, installation guidelines, preliminary cost estimates as well as additional supporting documentation.
Altogether, Tensar's engineers and technical support staff, regional managers and national distribution network strive to keep our systems at the forefront of today's design technology and customer needs. Rely on the experience, resources and expertise that have set the industry standard for nearly three decades.

Related Blog Posts & Articles:
How Geogrid Works | How to Install TriAx Geogrid | Tensar TriAx Geogrid for Soil & Subgrade Stabilization
Are You Really Saving with Chemical Stabilization? | Traffic Effects Subgrade Deformation
Downloads:
Soft Soil Infographic | Haul Road Application Bulletin
Haul Road, Laydown Area, Parking Area Case Study | Crane Platform Case Study | Well Pad Case Study
Ready to Talk to Tensar? Contact us and let's get started!