Long-Term Performance Engineered Solutions
Tensar's Grade Separation Solutions owe their long-term performance and durability to high strength
Tensar® Uniaxial (UX) Geogrids. These geogrids are highly resistant to chemical or biological degredation and can be used with a wide variety of backfill materials.
Tensar Uniaxial (UX) Geogrids
Tensar UX Geogrids are manufactured from select grades of HDPE resins that are highly oriented and resist deformation when subjected to high tensile loads for long periods of time. These geogrids carry large tensile loads applied in one direction. Their open aperture structure interlocks with natural fill materials, making them ideal for Mechanically Stabilized Earth (MSE) and Reinforced Soil Slope (RSS) applications.
Geogrid Reinforced Precast Panel Wall System

Tensar's ARES Wall Systems provide an attractive and reliable solution for a variety of grade change requirements, saving time and money during installation. Modular and full-height panel walls offer designers a choice of textures and patterns to meet the architectural, structural and budgetary needs of retaining wall projects. Contractors benefit from the time and labor costs saved when installing ARES Walls.
Segmented Block Retaining Wall Systems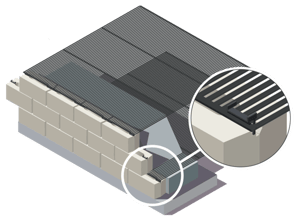 Mesa Wall Systems offer both aesthetic appeal and structural stability, providing the ideal solution for almost any commercial project. Differential settlement, traffic barriers and seismic loads can test the capabilities of any retaining wall, so connection strength must be especially reliable. Mesa Connectors were specifically designed to meet these long-term performance demands, providing a mechanical connection where it's needed most – at the wall face.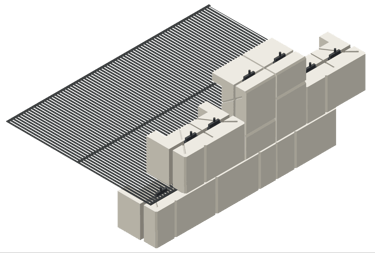 Tensar's new Olympia Retaining Wall System is based around a single block that can be set horizontally and vertically in order to create endless pattern options. This allows designers to create ashlar patterns, pilasters, stacked-bond borders, or virtually any other pattern with just one block. Unlike other segmental retaining wall (SRW) systems, Olympia Walls incorporate a positive, mechanical connection between the wall face and the Tensar Geogrid, reinforcement providing unsurpassed structural integrity. It's this positive, mechanical connection that greatly minimizes the chance of wall failure, even under the most severe conditions. Each Olympia block weighs in at @ 65 lbs. per 0.89 SF block, making it is one of the lightest blocks per SF on the market. Lighter weight means less concrete to make, ship, and place.
Geogrid Reinforced Wire-Formed Retention Wall System

The SierraScape Wall System combines Tensar Geogrids with a positive mechanical connection between the geogrid and the wire-form for a dependable, cost-effective solution to the most challenging grade change projects. This connection better withstands differential settlement, offers exceptional performance in areas where seismic activity or heavy external loads are a concern and eliminates surficial stability problems often associated with other structures. It also provides a visual construction quality control check during installation.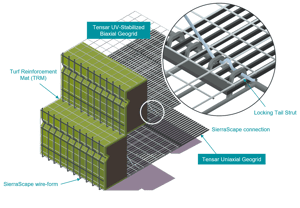 When it comes to structural stability, no other wire-formed retaining wall compares. The SierraScape System adapts to a variety of project conditions, design requirements and aesthetic options. Compared to concrete, the system is typically a more cost-effective solution as well. Its unique wire forms ease installation and help minimize construction time. The SierraScape System's low maintenance, design versatility and resistance to environmental degradation help make it the right choice for a number of retaining wall applications.
Reinforced Slope Retention System

The Sierra® Slope Retention System provides an economic and aesthetic alternative to conventional concrete retaining walls, replacing them with natural, landscaped, sloping structures nearly indistinguishable from native terrain. These graded and steepened reinforced soil slopes (RSS) typically range from 26° to 70° from horizontal, depending upon site development conditions. Unlike flatter slopes, Sierra Slope Systems claim a smaller footprint as they maximize developable land, create usable land in undeveloped areas and enhance property values.
Temporary Wall System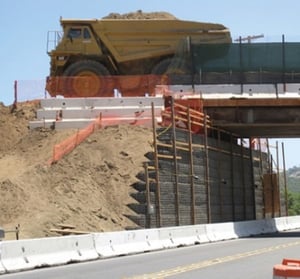 Ideal for traffic maintenance, staged construction and similar projects, Tensar Temporary Walls feature:
- Proven performance in heavy load applications
- Tensar Geogrids. Made from high-density polyethylene (HDPE) material, geogrids allow the use of a variety of backfill materials
- Ease of installation, with the ability to be left in place or easily removed
- Full-service solutions, including engineered drawings and site assistance.
Bridge Abutments


Bridge abutments are among the most demanding grade separation applications. Differential settlement, traffic loads and seismic events continually test their structural integrity and long-term performance; construction components are further subjected to chemical corrosion, hydrolysis and more.
Tensar International's mechanically stabilized earth (MSE) retaining wall systems have proven to be effective solutions for the construction of bridge abutments – so effective that the need for pilings is routinely eliminated.
The Engineered Advantage™
Tensar is the industry leader in soil reinforcement solutions. We've developed products and technologies at the forefront of the geotechnical industry for more than three decades. Our products are backed by the most thorough quality assurance practices in the industry. And we can provide full engineering and construction services including detailing, design, site assistance and final stamped drawings for each of our grade separation solutions.
Related Blog Posts:
ARES Retaining Wall Systems for Boulder City Bypass | The Cost of America's Aging Infrastructure
Downloads:
ARES Case Study | Mesa Case Study | SierraScape Case Study | Sierra Case Study
Temporary Wall Case Study | Temporary Wall Backfill Comparison Chart
Ready to Talk to Tensar? Contact us and let's get started!