Lower Construction and Life Cycle Costs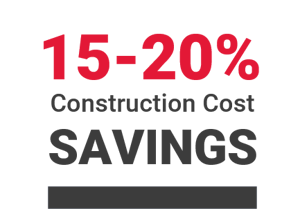 Tensar's TriAx Geogrid paves the way to lower pavement construction costs by optimizing pavement components. Research indicates that use of TriAx can reduce asphalt layer thickness 15-30% and aggregate layer thickness 25-50%.
In addition, life cycle cost analysis indicates that TriAx stabilized roads – typically less than 5% of a pavement structure's total in-place cost – have a service life up to 5x longer than unstabilized pavements of equivalent thickness. Savings are achieved through preservation of the pavement structure, reduced maintenance, and extended rehabilitation intervals.
Soft Subgrades

By using TriAx Geogrid for ground stabilization of the granular foundation layers, Tensar Technology can really benefit your project:
Reducing layer thickness: Capping and sub-base layers can be reduced by up to 50% with no performance loss, saving on materials and excavation.

Increasing life: A mechanically stabilized layer incorporating TriAx Geogrid can extend service life of unpaved roads by a factor of three or more, reducing long-term maintenance costs by up to 50%.

Increasing bearing capacity: The load spreading capability of a mechanically stabilized layer incorporating TriAx Geogrid can increase the bearing capacity of working platforms for heavy duty tracked plant such as cranes and piling rigs.

Controlling differential settlement: Over highly variable ground conditions, soil stabilization using TriAx Geogrid can help even-out variable ground support from a foundation soil.

Capping weak deposits: Tensar TriAx Geogrid promote the safe placement and installation of cover layers of soil in the capping of sludge lagoons and industrial waste deposits.

Reducing construction carbon emissions by up to 50%.
Paved Roadways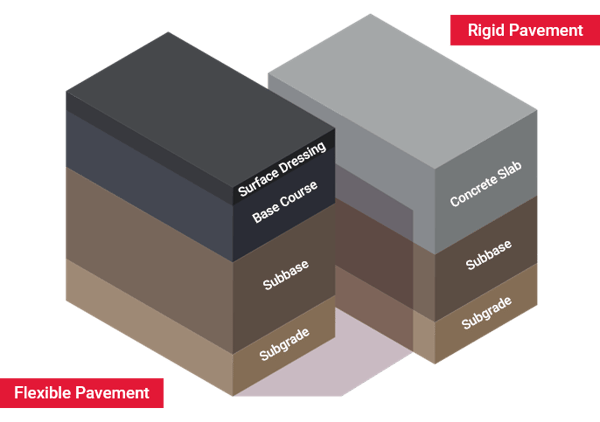 Construction budgets are under constant scrutiny to deliver the highest quality end product for the least amount of money will facing:
- Asphalt and crushed aggregate pricing volatility
- Reduced construction and maintenance budgets
- Pavement life span being compromised due to increased trafficking or insufficient pavement structure
TriAx Geogrid offers a proven performance benefit for:
- Reducing pavement component thickness asphalt, aggregate base and granular subbase
- Simplifying construction
- Lowering long-term maintenance costs
Pavement Optimization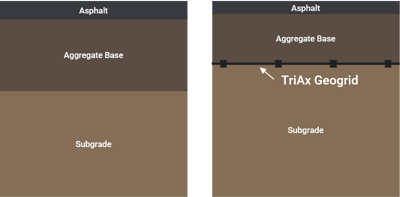 Tensar TriAx Geogrid confines aggregate fill to create a mechanically stabilized layer (MSL) that is significantly stiffer and more robust than a conventional unbound aggregate layer. The enhanced structural characteristics of the MSL allow the designer to obtain greater performance from the total pavement structure, which results in more economical construction, more consistent surfaces, improved performance, and longer life.
Parking Lots & Large Paved Areas

When used in base stabilization applications (i.e. reasonably firm subgrade conditions), Tensar TriAx is capable of providing the following benefits:
- Increased speed of construction: The installation process for Tensar TriAx is extremely straightforward. Using less aggregate leads to quicker installation when compared to other solutions that use conventional soil stabilization techniques.
- Increased design life for a given pavement section
- Reduced pavement thickness required for a given required traffic level
- Create a Uniform Subgrade Elevation: For pavements constructed to carry traffic in the areas around large retail stores
Improve Site Access | Reduce Cut and Fill | Reduce Aggregate Fill Thickness | Value Engineer for Profit |
Reduce Maintenance | Simplify Installation
Related Blog Posts:
How Geogrids Work to Keep Projects on Track | Improving Value & Profit Using Tensar TriAx Geogrids on Roadway Projects | How to Install Tensar TriAx Geogrids on Roadway Projects | Traffic Effects on Subgrade Deformation | Tensar TriAx Geogrids = Savings
Downloads:
Subgrade Improvement Pocket Card | Subgrade Protection Flyer | Pavement Optimization Flyer | Large Retail Store Developments Application Flyer | Case Study: Lake Ave Orchard Park
Ready to Talk to Tensar? Contact us and let's get started!