SpectraPave Design Software is Now Based in the Cloud
by Joe Heintz, P.E., on Nov 3, 2020 12:00:00 PM
For years, engineers around the world have depended on Tensar's SpectraPave design software. This free program has become the most powerful tool for evaluating roadway design options and optimizing pavement performance using Tensar Geogrids. And now, SpectraPave has become even more powerful with its migration to the cloud, giving customers more convenient access to this valuable tool across multiple devices.
Once you start using the software, don't forget to share the link with colleagues.
The new cloud-based software allows engineers, contractors, and owners to design with geogrid in a variety of applications, including pavement construction, soft soil stabilization and haul/access road design. The software calculates total value of the Tensar solution compared to conventional construction alternatives. Value is based not only on performance vs. initial construction cost, but also life cycle cost, time savings, and sustainability. Specification generation and educational resources are additional features implemented within SpectraPave that help users make more informed decisions.
SpectraPave incorporates the benefits of Tensar geogrids into industry accepted design methodologies, based on rigorous full-scale testing. It has been validated by third-party experts and the full range of Tensar products is compliant with the design methodologies used by the software.
SpectraPave enables users to:
Design and evaluate pavement and gravel sections over a variety of subgrade conditions

Easily compare design alternatives, including geotextiles, geogrids and conventional construction

Determine initial and life cycle cost savings, time savings and sustainability metrics by incorporating Tensar TriAx geogrids
SpectraPave has undergone significant user testing and feedback sessions to learn how we can better meet the needs of our customers. This has resulted in a simplified user experience that is easier to use, particularly for first time users, while maintaining or improving on all the powerful features the more advanced users have come to expect.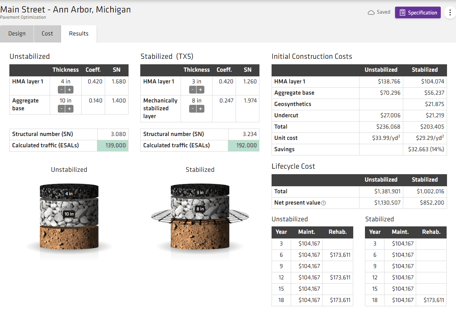 Based on your feedback, we have added the ability to more easily compare several design alternatives, including non-Tensar options. The design output provides a high-level summary of the design alternatives for the user to make informed decisions and help explain the design selection to clients. Finally, with many of the world's civil engineers working from home, communication on complex construction projects can be especially challenging. As a result, we have implemented easy-to-use sharing features to aid collaboration, including design review requests and printing high quality graphics for client presentations.
Use the most powerful roadway design software available when you design with Tensar's SpectraPave. Click the button to get started and don't forget to share this link with colleagues.