SierraScape for Emergency Slope & Landslide Repair
by Tensar International, on Jul 23, 2019 3:11:09 PM
When facing an emergency landslide repair, SierraScape wire-formed retaining walls from Tensar International offers cost-effective and time saving solutions that include fast design-build for tight budgets.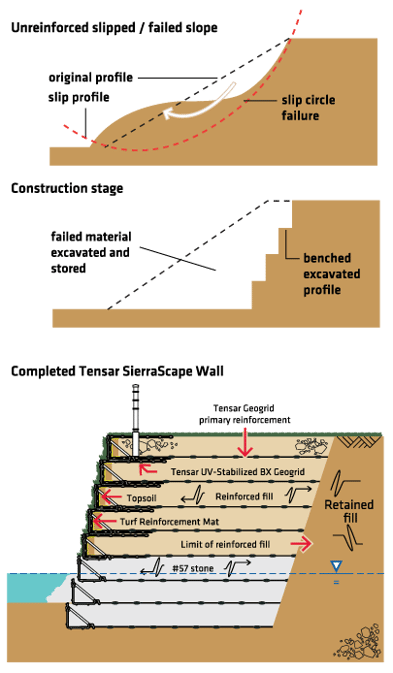 Traditionally, slip repair techniques are both time consuming and environmentally damaging, involving the excavation and off-site transportation of failed fill material. Replacing with imported materials can prove more costly and time consuming. The Tensar SierraScape® Retaining Wall System involves excavating soil in the failure zone, replacing it and reinforcing with geogrids. This significantly reduces the need for additional imported fill. And SierraScape wall baskets weigh less than 40 lbs per 10'x18" section. It can also adapt to many challenging conditions and provide a cost effective and time saving alternative with reductions in traffic disruption and off-site movements.
The SierraScape System has proven it's value in many roadside repairs, like this INDOT State Highway project that was completed in less than six weeks.
What you can expect with an emergency landslide repair with SierraScape:
System Reliability: SierraScape forms include mechanical connections to high-durability, Tensar HDPE geogrid reinforcement. This system is engineered to withstand landslides, differential settlement, seismic activity and heavy loading conditions and to outlast other construction materials.
Speed and Ease of Installation: SierraScape components are lightweight (about 2 pounds per square foot) so your crews can set sections quickly and safely. The face is filled with durable local stone.
Adjusts to any road curve geometry and face angles: Steeper than 45 degrees, slope repairs can be challenging, but SierraScape can go as steep as true-vertical. It can also be designed and constructed partially or fully submerged
Compatible with a wide-range of backfill options: Inert to chemical degradation, our HDPE geogrids enable a wider variety of fill materials to be used, including on-site soils and recycled concrete.
Local and Quick Access: Your local representative provides full design-build services that results in quick response time. With up to 10,000 square feet of locally-available SierraScape components on one truck, you can have materials on site in days, not months.
Several Facing Options: Finished slope/road face including native vegetation, sodding, hydroseeding, stone-face, & bio-engineered products

Tensar, engineered to help.
Think of Tensar as your ally. We'll be standing by, ready to support your project from start to finish. If you have an existing project, submit your details for a cost-free review. Or, if you want to learn how SierraScape walls can prevent future failures, we're happy to show you how.
Tensar, the leader in geosynthetic soil reinforcement, offers a variety of solutions for mechanically stabilized earth (MSE) retaining wall projects. Our products and technologies, backed by the most thorough quality assurance practices, are at the forefront of the industry. Click the button below to learn about our additional grade separation solutions.