Geopier GeoSpike
The Geopier GeoSpikeSM system is a cost effective method for strengthening weak railroad track subgrades. This system is installed without removing railroad tracks, ties, or ballast. Geospike elements are driven to design depths, then aggregate is backfilled within the pre-manufactured shell. Rail owners, contractors, and designers use the Geopier GeoSpike system to improve the roadbed.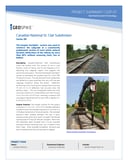 Project Example: Canadian National St. Clair Subdivision
Dynamic deflections of the railway reduced by 60% without removing the track, ties or ballast. Click the image to read more about the project.
Geopier SRT system
Geopier ground improvement is also used to cost-effectively stabilize shallow slides along existing soil embankments by using the Geopier SRT® system. The patented SRT Plate Pile™ method is well suited to stabilize slides or steep slopes that do not meet required stability criteria, such as slope inclination between 17 degrees (3:1) to 45 degrees (1:1), slides up to 15 feet thick, all soil types (with the exception of very loose to loose sand) overlying an underlying competent layer into which the Plate Piles penetrate and Plate Piles may be installed into soft rock (e.g. siltstone, claystone, mudstone, weathered shale, etc.).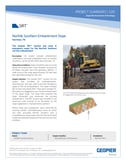 Project Example: Norfolk Southern Embankment Slope
Slope repair solution with a highly accelerated response time and construction schedule
To learn more about the GeoSpike system, SRT system and other Geopier rail solutions, email Don Herbert.